Jokowi's presence in Kamisan might be a gimmick: Suciwati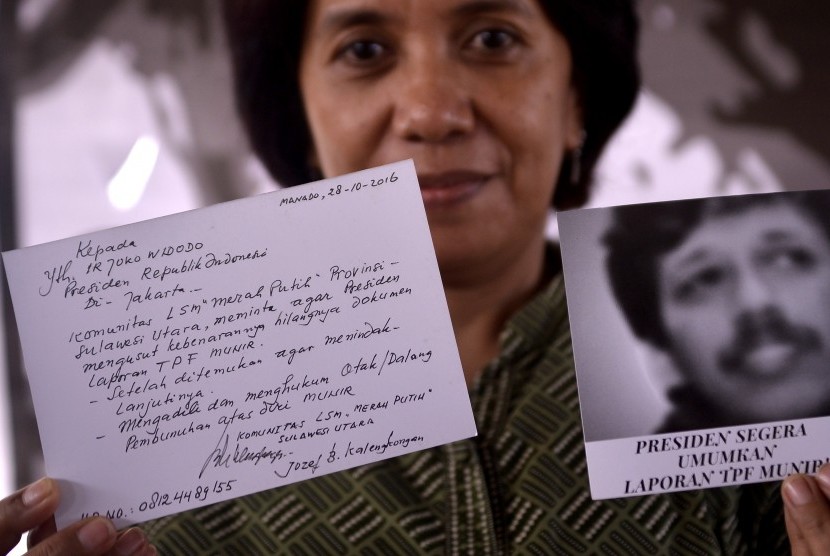 Human rights activists hold Kamisan action every Thursday in front of State Palace.
REPUBLIKA.CO.ID, JAKARTA — Human rights activist Suciawati said the presence of President Joko Widodo (Jokowi) to Kamisan (Thursday) action was not something special. The event was meant to demand the state to be accountable for various cases of human rights violations.
Suciwati also questioned the presence of Jokowi. According to her, Kamisan has been held in front of State Palace for about 540 times every Thursday and hundreds of letters have been sent to president, including in Jokowi's leadership era. However, none of the letter got proper response.
"We are worried the presence of Jokowi today is only a symbolic or even a gimmick in the middle of political year," said Suciwati on Thursday (May 31).
Suciwati deplored if Jokowi's presence was not based on strong commitment to solve human rights cases in the past. It would insult the sense of justice and humanity itself. Furthermore, it would disminish the victim and the victim's family's hope.
In his leadership, Jokowi has shown a very slow performance in resolving or at least responding to issues related to human rights violations, she assessed. Whereas the agenda of the settlement of human rights violations has been contained in the document Nawa Cita Jokowi-JK (Jusuf Kalla).
She also regretted president let Attorney General to refuse investigation of nine cases human rights violation that have been investigated by National Commission on Human Rights (Komnas HAM). Jokowi also refused to announce the Survey of Fact Finding Investigation (TPF) documents of Munir's death. In fact, Suciwati as the widow of murdered human rights activist Munir Said Thalib added, the existance of the document was unknown.
House of Representatives (DPR) also recommended government to issue presidential decision (Keppres). on the establishment of an ad hoc human rights court. In addition, to establish a team to find victims who are still missing, to recover victims and families of victims, including ratifying the International Convention against Enforced Disappearances.
Suciwati specifically questioned Jokowi's commitment to resolve cases of human rights violations that were remain unsettled. We also urge president to immediately announce report document from Munir Fact Finding Team (TPF-KMM) as mandate in presidential decision (Keppres), Suciwati said.
Earlier, President Joko Widodo (Jokowi) has ordered the Attorney General, HM Prasetyo, to address human rights violations in the country. He conveyed the instruction after meeting participants of Thursday action at the Presidential Palace.
"The President has ordered the attorney general to coordinate with the National Commission on Human Rights (Komnas HAM)," the President's Special Staff, Johan Budi Sapto Pribowo, said here on Thursday.
Sumber Berita Republika.co.id Sbobet | Poker Indonesia | Master Agen Bola